Have you ever wondered how to work on your website's SEO as a beginner? Do you want to rank your website higher as a beginner? Do you want to learn some tips for SEO? Then, you are in the right place.
As a beginner blogger, It is not very easy to rank your website on the first page of google. There are a vast amount of things to learn to rank higher on google search engines.
But learning all the SEO tips, in the beginning, can be a bit overwhelming. So, by learning the basic SEO tips should be enough for a beginner blogger to build a strong SEO foundation.
Also, Implementing the basic SEO tips and optimizing your site for basic SEO can improve your site rank significantly.
But, some of you might be very new to this term SEO and might want to know what SEO is.
What is SEO?
SEO stands for Search Engine Optimization. It literally means Optimizing your website or content to rank higher in search engines like Google, Yahoo, Bing, etc.
It is a technique for optimizing your website to rank higher for the keywords you have written about.
How does SEO work?
SEO is completely based on algorithms. The bots of google (or any search engine) crawls and gathers all the pieces of information about the content you searched for.
Then, It matches all the information of the searched result with the algorithm and shows high-quality search results to the user.
Click here to know more about 'What is SEO ?'
Why is SEO important?
Have you ever checked the results for the query you have searched for in the fourth or fifth page of google? This is the exact reason.
When your website is properly optimized for SEO, It ranks higher in the search engine search result. This means more people are visiting your site which increases your conversions, sales, and revenues.
Since SEO is this important for the exposure to your blog, here are 9 SEO tips that I use as a beginner to rank better in search engines and drive more organic traffic to my site.
Note: My site is just a month old, and it can take at least 4-6 months to rank your site on the specific keyword. So, you won't find any of my article listing for any particular keyword but I am optimizing my blog and my posts so that it can start ranking on search engine's search result. 'Better late than never', my ranking is slowly climbing up. 😁
Before starting on SEO tips, here are 15 Do's and Dont's of Blogging for Beginner Blogger
9 Basic SEO tips for beginners for better SEO and web search ranking.
1. Target for long-tail keyword:
Before starting to write content, you must do keyword research. Make sure people are searching for the content you are searching for.
Dive into the keyword research tool and extract the keywords people are searching for. Then, add the keywords 'naturally' throughout your blog but don't overdo it.
While coming up with blog content, target for long-tail keywords. These types of keywords are easy to rank in and they will appear in multiple search results.
For example, use 'SEO Tips for beginner' instead of only 'SEO Tips'. It will help you rank in multiple searches and also helps the people look upon the content easily who are searching for highly detailed topics.
You can use several keyword research tools to search for 'highly detailed long-tail keywords'. Some of them are paid while some of them are free. Some free keyword research tools that I use are Ubersuggest – By Neil Patel and SEO review tool.
2. Write longer articles:
Writing long articles can make a major boom in your ranking. According to many SEO experts, google ranks posts that have higher word content.
Longer articles mean a higher number of keywords to rank for. So, if you write longer articles, you can rank for more keywords. Hence, it is advisable to write longer articles.
Articles with more than 1600 words are preferred for SEO. So, writing longer articles should be focused for better SEO and page ranking.
But you should write for humans, not for robots. You should also focus on writing quality content rather than sobbing your blog with keywords and repeated sentence.
3. Blog often:
Posting your blog often is a helpful and advisable method for better SEO and higher ranking in search engines.
If you post a single blog post only once a month or two, then, there is less chance that your site will rank in the search engine's search result. Google crawls and ranks those site which is active and are posting content consistently.
It is usually recommended to upload your blog content twice a week (if you are starting) but uploading at least once a week is fine as well.
I used to upload two blog posts per week (every Tuesday and Saturday) but now after more than one month of starting my blog, I decided to post only one content per week.
4. Easiness of reading:
Make sure to keep your content readable. The more readable the content, the more people are likely to get hooked up in the content. You can find the readability of your content on SEO Review Tools
It is usually measured in Flesch reading score. The higher the score, the easier it is to read. The Flesch reading score is usually recommended to be in the range of 70-80 which is fairly easy to read by a 6th-grade student.
Nowadays, more people are searching on search engines via voice input as it is 4 times faster than typing manually. For this, people are using natural language and generate a thread of natural results. So, easy readability also helps your page rank for natural keywords.
5. Be Active on Social Media:
Most people don't think social media and SEO go hand in hand. But, Social media are also an important ranking factor for better SEO.
More than 4.5 Billion people in the world (60% of the world's total population) already have access to the internet and 3.8 billion people are the user of social media. This is how vast the reach of social media is.
Social media like Facebook, Twitter, Pinterest, Instagram, Linkedin, etc are some of the most popular social media in the market.
Social media helps to boost your content distribution and also helps you connect with a larger audience throughout the world. It also helps increase the visibility of your blog/brand, helping you drive more traffic to your website.
Here's how you can Use Twitter to drive traffic to your blog.
Social media not only help you drive traffic but it also helps you rank better as search engines rank social media profile for many branded keyword and increase your reach to your potential reader/customer organically via social media.
As a blogger, I am mostly active on social media like Facebook and Twitter. You can find me there as well 😉
6. Optimize Site Speed:
Page speed is basically the time taken to load your website. Slow site speed can hurt the SEO of your website badly.
This is a very busy age. No one is going to wait for 15 seconds for your website to load, while there are millions of results on the specified search topics. People will get off your website if it is too slow and it hurts your SEO.
One of the most popular sites for checking your website's load page is GTmetrix. I personally use this and I am in love it with. It also indexes the improvements that you need to do in your site to decrease the load speed of your site.
To decrease your site load speed, you need to compress your images, HTML codes, CSS & Javascript. You can find more details on it at GTmetrix as well.
The speed of your site also depends on the Hosting service you use. Hostinger is one of the best WebHost you can use. It offers no downtime and speed is top-notch and you get all these at the cheapest price possible.
Sign up for Hostinger with 90% off in only $0.99/month here.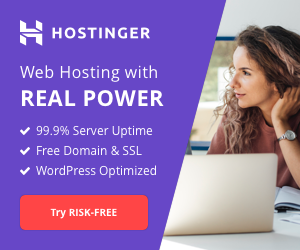 7. Use Optimized Image
Images are the most eye-catching and lucrative tool for your blog. It helps to attracts people and make it appealing and engaging at the same time.
But, Image takes up the highest space in your site (almost 60%-70%). So, if you want to make your site faster, compress your images to such extent that it appears clear but doesn't take much space.
My favorite tool for compressing images for my blog is imageoptimizer.net. It compresses your photos as to your likings. (It have compressed my 1.5 MB image to 27 KB). How cool is that?
8. Backlinks:
According to most SEO Experts, Backlinks are the most important factor for a good SEO and higher ranking of your site. Google and other search engines rank the site that is well recommended by the sites that are already trusted by google bots.
If a site with high DA (Domain Authority) and PA (Page Authority) provide your site with a backlink, then it is much easier to rank in a higher position as google has already verified and crawled through all the information of high DA & PA sites.
But building backlinks is not an easy-peezy task. A lot of hard work (or even money) is required to obtain backlinks from sites with high DA & PA. Some sites even ask for money to provide the link of your site in their blog. Some require constant hard work and a lot of good & awesome content to get a backlink.
Guest blogging is another way of obtaining backlinks to your site. Sites with high DA & PA often do pay guest blogging but some sites with medium DA & PA offer free guest blogging for other bloggers.
You basically write content for others and then they will provide you with a backlink to your site. But who likes to write for others?
Although this method seems easy, creating and curating content for others can be stressful especially if the client has some very strict specifications.
Although it requires some effort, I recommend it as it is easy to obtain backlinks from this if writing content is not very hard for you.
Also, participate in Q&A Sites like Quora and Reddit to get backlinks. Although it doesn't count as quality backlinks, it is still going to drive traffic to your site and help your website rank better.
Join different forums in these sites and answer the queries people are asking. And, also link the answer back to your site. This will also count as a backlink to your site
9. Outbound & Internal Links:
Internal links and Outbound links are other important factors for better SEO and higher ranking in the search engine.
Outbound links are those link which directs to other websites from your site. This is mostly used to mention or source to other sites from your site which add value to your readers and this link counts as a backlink for the site you mention in your blog.
Whereas, Internal links are the links directing your readers to another page within your website. It doesn't count as a backlink. It helps you create a thread of relatable posts within your site and makes people be on your site for a longer time.
Outbound links help create a web of a larger network of websites and google bots can easily crawl through it for rankings. It also helps to build a sense of trust for the other sites and can help you rank better. Also, You need outbound links to help your visitor verify and justify the information you share.
Internal links help create a web of the network within the pages of your site so that readers can find a similar or related post within your site and your readers don't have to leave your page.
---
So, these are the SEO tips that I use as a beginner and seems to be working for me. These SEO tips are very easy to follow and are capable of giving good results.
It has given me good results (DA:2 AND PA:8) Within the first month of blogging. I will make sure to publish and keep you guys updated on how my website is going. For that, follow my Facebook, Instagram, or Twitter. I will make sure to keep you guys updated on the SEO tips I use and the results I get from them.
You can also drop any queries related to SEO tips for beginner and I will help you with anything I know.